Nutrition Evaluation Laboratory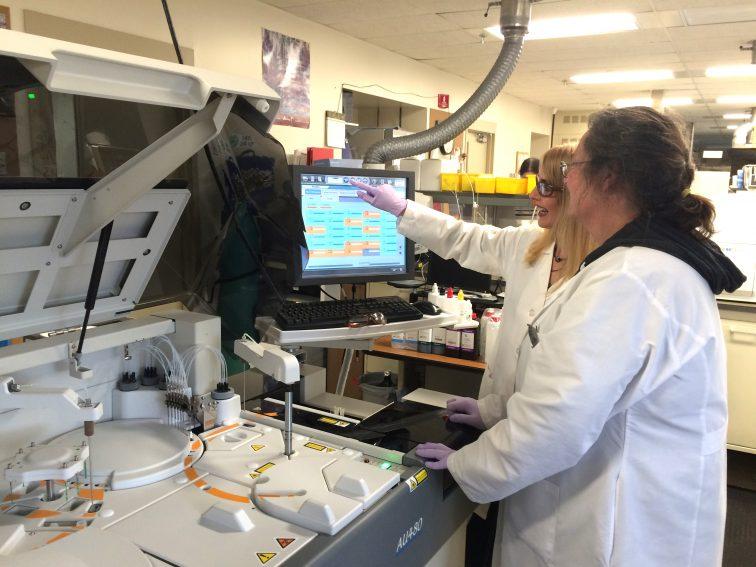 The Nutrition Evaluation Laboratory (NEL) is a centralized laboratory with a comprehensive analytical program in clinical chemistry and biochemistry. Providing scientists with a full array of analytical services to help them achieve their diverse research goals and objectives, the NEL is committed to creativity, flexibility and technical expertise. Focused on quality, accuracy, precision, resourcefulness and customer satisfaction, the NEL offers scientific investigators a comprehensive biochemical test menu, specimen handling services and analytical study design assistance.
Overview
The NEL occupies 5,000-square feet and is comprised of three units, Clinical Core Unit, Specialized Chemistry Unit and Specimen Processing Unit. Licensed by the federal government (Clinical Laboratory Improvement Amendments (CLIA) Certificate of Compliance from the CDC) and the Commonwealth of Massachusetts, (Div. Health Care Quality, Dept. Public Health), the NEL's Clinical Core Unit provides results for hematology, blood chemistry, and urinalysis procedures. The NEL's Specialized Chemistry Unit provides tailored analytical services for measurement of water-soluble vitamins, fat-soluble vitamins, lipids, proteins, amino acids, carotenoids, antioxidants, hormones, enzymes, cytokines, hematological parameters, and macro and micro mineral from human body tissues, animal tissues and food. The NEL's Specimen Processing Unit receives, processes, stores, and tracks biochemical specimens. The NEL's Information Management System provides infinite storage and archiving of specimen identification numbers and includes online quality control checking, workload reporting, and direct transfer of test results from instruments to research data base. We also provide expert assistance with protocol and analytical development.
Summary of Services
Specimen Management
Design and development of standard operating procedures for sample collection
Specimen processing, aliquoting, isolation of cells, treatment of samples
Tracking, shipping and temporary storage
Biochemical Testing, Quantification and Qualitative analysis
Complete Metabolic Clinical Testing Profiles
Quantification of biochemical markers for nutritional status in human and animal tissues
Analytical expertise in clinical chemistry, hematology, UV/visible spectroscopy, high performance liquid chromatography, liquid chromatography/mass spectrometry, emission spectroscopy, titration, combustion procedures, enzymatic assays, electrochemical applications, fluorescence, immunoassays, ELISA procedures, chemiluminescence and radioimmunoassays.
Data analysis
Research and Development
Assay validation
Development and implementation of analytical assays for measurement of clinical and biochemical markers in human tissues, animal tissues and food
Assist with analytical development and design
Consulting and determining appropriate and best methods for testing
Implementation of standard operating procedures
Quality Assurance
The NEL adheres to a strict Quality Assurance Program. Each analytical procedure has Standard Operation of Procedure (SOP) for certification, linearity determination, proficiency testing and calibration. The laboratory uses the National Institute of Standard and Technology (NIST) reference and commercial materials for verification. The NEL participates in the College of American Pathologists (CAP) Inter-laboratory Comparison & Survey Program and the American Proficiency Institute (API) Testing Program for all licensed procedures. Other Inter-laboratory Round Robin and Quality Assurance Programs include NIST Micronutrients Measurement Quality Assurance Program, Northwest Lipid Research Center Proficiency & Quality Assurance Program, State of New York Department of Health Proficiency Testing Program, DEQAS Vitamin D External Quality Assessment Scheme and the NIST/NIH Vitamin D Metabolites Quality Assurance Program (VitDQAP). The laboratory uses David Rhodes Associates, Inc., EP Evaluator Program for statistical evaluation.
Equipment
The NEL houses sophisticated equipment and a computer management system that allows efficient and effective support of the scientific and research requirements for our diverse customer population. With a comprehensive analytical program, our goals are to provide a high level of analytical precision, quality, and accuracy, with timely results, to every client, for every sample tested.
Major Equipment
Horiba /ABX Diagnostics Hematology Analyzer
Beckman Coulter Clinical Chemistry Analyzer
Thermo Electron Corporation ICP Spectrometer
Siemens Healthcare Diagnostics Immunoassay System
Perkin Elmer Automatic Gamma Counter
Perkin Elmer Tri-Carb Liquid Scintillation Counter
Waters Corporation Alliance HPLC Separation System with Photo Diode Array Detector
Waters Corporation HPLC System with UV/Visible Detector
Waters Corporation HPLC System with Fluorescence Detector
Waters Corporation HPLC System with Bio-Analytical Systems Electrochemical Detector
BioTek Instruments, Inc., EPOCH Microplate Reader
Roche Diagnostic Systems, Inc, Centrifugal Clinical Chemistry Analyzer
Becton, Dickinson and Company, BD Biosciences Accuri™ Flow Cytometer
Meso Scale Discovery, Meso Scale Diagnostics, LLC, Multiplex Immunoassay Analyzer
Leco Corporation TruMac Nitrogen Analyzer
Radiometer Analytical Titration Manager
Beckman Coulter UV/VIS Scanning Spectrophotometer
Advanced Instruments Micro-Osmometer
Information on Requesting Services
To request Nutrition Evaluation services, contact Manager Gayle Petty to schedule a meeting to review the needed support, and your study timeline.
Staff
Gayle Petty, MBA
Manager
Provides the administrative and scientific leadership related to all operations of a state and federally licensed clinical laboratory and analytical core research facility in which human, animal and food specimens are evaluated for biochemical markers. Directs the development, implementation and troubleshooting of laboratory tests using advanced and state-of-the-art instrumentation, establishing quality control procedures, and designing the analytical components of research protocols.
Shahin Sarkarati Smith, BS, Laboratory Section Supervisor
Stephanie Thea Leon Valliere, BS, MLS (ASCP), Laboratory Section Supervisor
Jian Qin, BS, Research Assistant
Elias Seyoum, PhD, Research Assistant
Hong Wang, BS, Research Assistant
Danielle Greengart, BS, Specimen Processing Technician