Postdoctoral Opportunities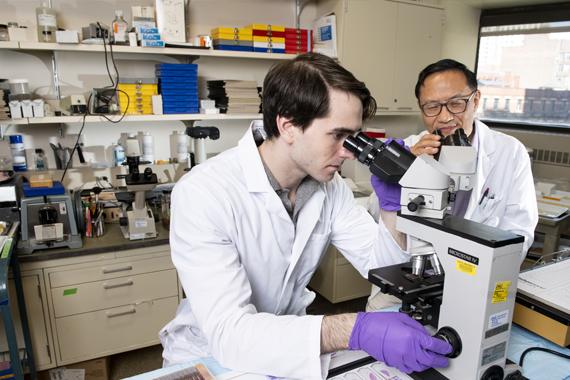 Postdoctoral Scholar Program
The mission of the postdoctoral program at the HNRCA is to provide an environment in which postdoctoral associates and fellows can broaden their research abilities and equip themselves with the skills necessary for a successful career in their chosen field. Postdoctoral trainees at Tufts are obligated to carry out a research program to the best of their ability under the guidance of a research advisor.
Postdoctoral positions at the HNRCA are usually arranged between applicants and individual HNRCA researchers. To begin the process, applicants typically do thorough publication reviews in their area of scientific interest, and then review the work and publications of the potential mentor. Applicants should send a cover letter and updated CV directly to centerdirector-hnrca@tufts.edu.
Current Open Postdoctoral Positions
The HNRCA welcomes inquiries from young investigators seeking postdoctoral positions. We encourage interested individuals to send a CV to centerdirector-hnrca@tufts.edu or contact HNRCA researchers directly for possible postdoctoral opportunities.
To learn more about the postdoctoral program at Tufts University, please refer to The Postdoctoral Handbook  which applies to Postdoctoral Associates, Postdoctoral Fellows and Research Associates. This Postdoctoral Handbook provides additional policies and guidance which only apply to Postdoctoral Associates and Fellows.
Postdoctoral Associates and Fellows may also be subject to additional policies that are specific for their host Research Advisors, Departments and Schools.